| | |
| --- | --- |
| | Top Rated Autorun Software! |
AutoLaunch/Run Any File
With AutoRun Wizard, you can autorun any file you want. This includes, but no limited to: html, pdf, exe, doc, ppt, mpg. Any file type you can load on your computer by double-clicking on it can be launched from the cd-rom auto run using AutoRun Wizard. If you select this option you need to click the Configure button to set your file

You can select up to 5 different autorun files to launch when your cd is placed into the drive. For each file there are specific attributes you can set to ensure the file is auto launched to your specifications. Click on the '...' button to change the file launching properties.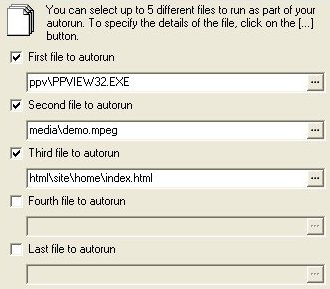 In the File to Autorun box you can pick any file you would like to have ran when the cd-rom is placed into the cd drive. Optionally you can set command line parameters to be used by the launched file.

You can choose to force this file to only run when the computer is running a 32-bit or 64-bit operating system. This is great for installers when you have seperate types you can allow AutoRun Wizard to choose which is the correct installer to run.

When selecting the file you also have the option of what occurs after the file is launched. You have the option to wait for the file to be closed before continuing on to the next auto launch file. You also have the option to delay the auto launch of the next file for the specified duration.

You can force the file to be maximized when it is auto launched.

You can force your file to be opened within the default Internet Browser OR Microsoft Internet Explorer. This is great for HTML or SWF files or any file you are not sure is setup with the correct file extension association. Optionally you can have the Internet Explorer run in Kiosk mode. When you run Internet Explorer in KIOSK mode, the Internet Explorer title bar, menus, toolbars, and status bar are not displayed and Internet Explorer runs in Full Screen mode. The Windows Taskbar is not displayed, but users can switch to other running programs by pressing ALT+TAB or CTRL+ALT+DEL. Because Internet Explorer is running in Full Screen mode, you cannot access the Windows Desktop until you quit Internet Explorer KIOSK mode by pressing ALT-F4 or include a button in your HTML that will close the browser.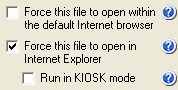 Auto play your web site
Our AutoRun Wizard adds the feature to load your web site on startup of the cd-rom. This loads the default internet browser on the computer of the user loading the cd-rom to your web site.

Auto Launch the Windows Explorer
You can automatically have your cd launch to the Windows Explorer to the base of your cd-rom. Users will be able to quickly and easiliy browse the entire cd collection with this feature.

No Auto Launch
This feature allows you to autorun or auto launch nothing. It might seem like a silly idea to use our AutoRun Wizard software to autorun nothing, however it was a very requested feature. You might want to only show a Splash Screen or only display a sound using our other features.